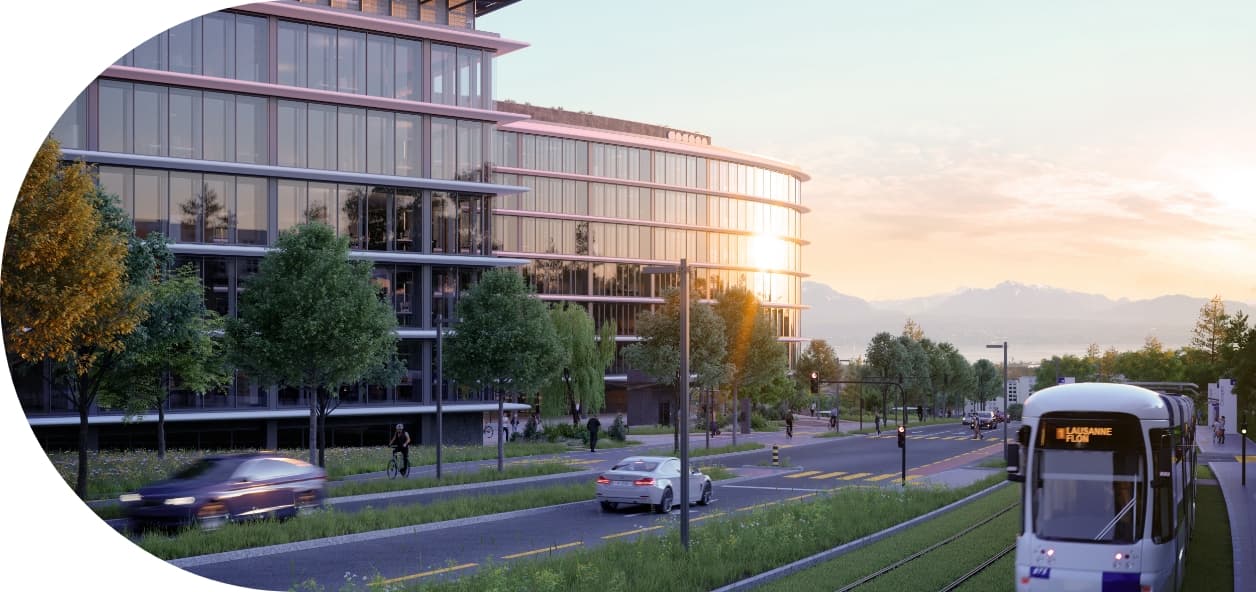 Project
THE PROJECT
Cocoon is an innovative real estate project in the heart of western Lausanne.
The site offers 38,000 sqm of business and service space, divisible from 300 sqm and up. It is composed of four buildings characterised by pure and elegant lines.
Its large, light-filled floors, designed to accommodate companies in customisable spaces, have a stunning view over the lake and the mountains.
Well-being and technology are at the heart of Cocoon, whose architecture also leaves plenty of room for interaction and relaxation, with the development of a large public square combined with planted spaces and tree-lined areas.
Cocoon promotes the well-being of its users by offering flexible and modular spaces that can be adapted to suit the tenant's needs and accommodate all types of activities. The ground floor, dedicated to shops, services, and restaurants, offers a living and meeting space that is accessible to all.
Key figures:
4 high energy performance buildings
38,000 sqm of office and retail space
13,000 sqm of storage space
380 covered parking spaces
1,560 photovoltaic panels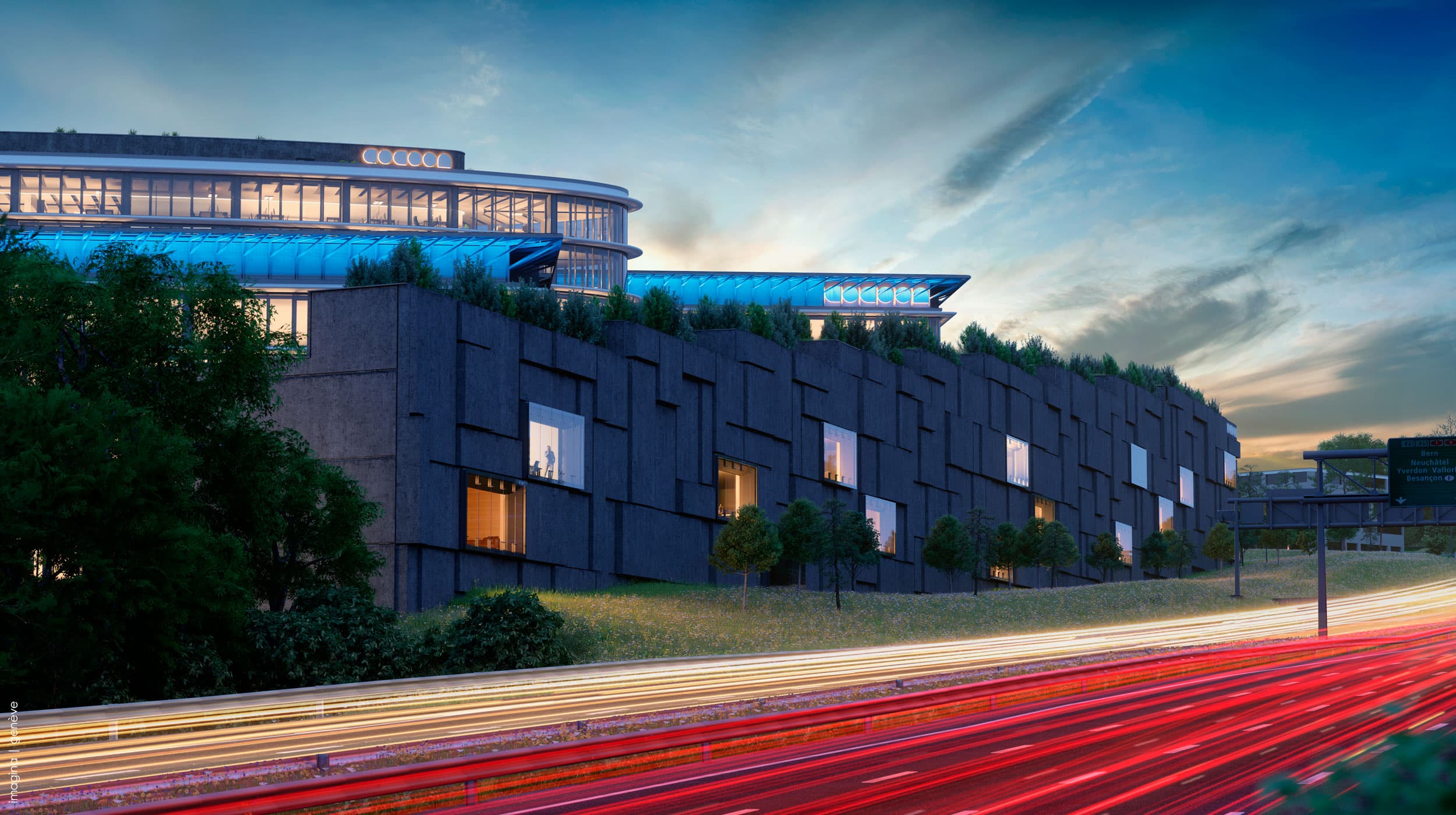 Remarkable architecture
With its four boldly-designed buildings, Cocoon combines aesthetics and functionality. Its Screen building, with its striking look, insulates the site from the motorway which runs alongside it, both visually and acoustically.
Sustainability at the heart of Cocoon
Vegetalized roofs, water-retention basins, photovoltaic panels, glass boxes to prevent heat loss, large green spaces: Cocoon embraces the desire to preserve the environment and the site's biodiversity.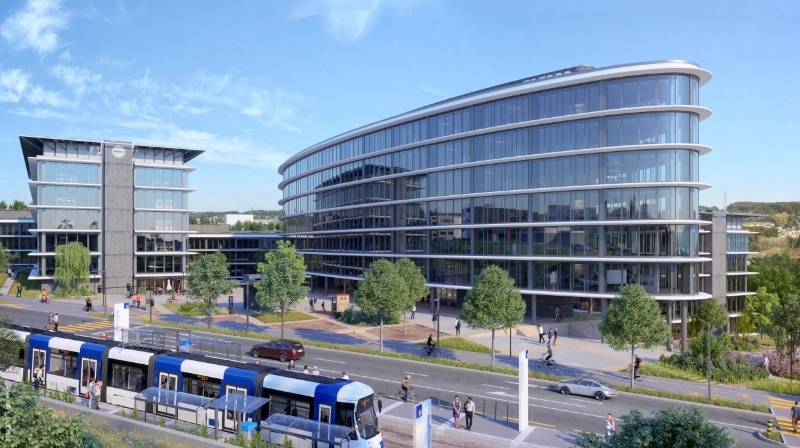 High connectivity and accessibility
Cocoon enjoys a strategic location, making it easily accessible, whatever the mode of transportation chosen. It is directly connected to the centre of Lausanne by the Lausanne public transportation network (tl) and will soon be by the new tram line. It is also close to the A1 motorway and the Bussigny train station (CFF).
Key project stakeholders
Management
The Christophe Pillon real-estate group (CP Immo) is dedicated to developing and managing real estate projects, particularly large-scale and complex development operations. Over some twenty-five years, it has carried out numerous projects, mainly in French-speaking Switzerland, representing several thousand homes and tens of thousands of square metres of business space.
Architectural office
Founded in 1964 and based in Geneva, ass architectes associés continues over 50 years of architectural and construction research. Today, the office is run by four partners – Carlo Zumbino, Donato Pinto, Félix Stämpfli, Marco Di Maggio – and some thirty collaborators from various backgrounds. Most of the projects are located between Geneva and Lausanne, but also abroad.
Commercialisation
Jones Lang LaSalle Ltd. is the Swiss subsidiary of the Jones Lang LaSalle group. Its experienced team of real-estate economists, engineers, auditors, corporate finance specialists, property managers and rental specialists, as well as a local research team, offers services for property companies, property owners and investors. Such services include the management of complex property and company transactions, the evaluation of real estate, leasing and tenant representation, project management, and strategic and organizational consultancy services relating to the ownership, development and management of property.
Property management
Present on the professionnal real-estate market of French-speaking Switzerland for four generations, Galland & Cie is a real-estate management company with over 50 collaborators managing 460 buildings and some 8,200 property units. The interests of their clients can be best served through local roots, management focused on core business, and a culture based on discretion and trust. Galland & Cie capitalises on property management and its core businesses: rental property management, property brokerage, property renovation and administration of condominiums.